Michigan Bishops' Statement on Immigration
Bishops' Statement
Focus: I Was a Stranger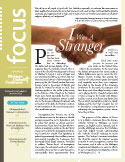 Church Teaching
Apostolic Exhortation of the Holy Father John Paul II to the bishops, priests and deacons, men and women religious, and all the lay faithful on the encounter with the living Jesus Christ: the way to conversion, community and solidarity in America.
Messages on the World Day of Migrants and Refugees.
A Pastoral Letter Concerning Migration from the Catholic Bishops of Mexico and the United States. January 2003.
A Statement of the U.S. Catholic Bishops. November 2000.
Additional Immigration Resources from Justice for Immigrants